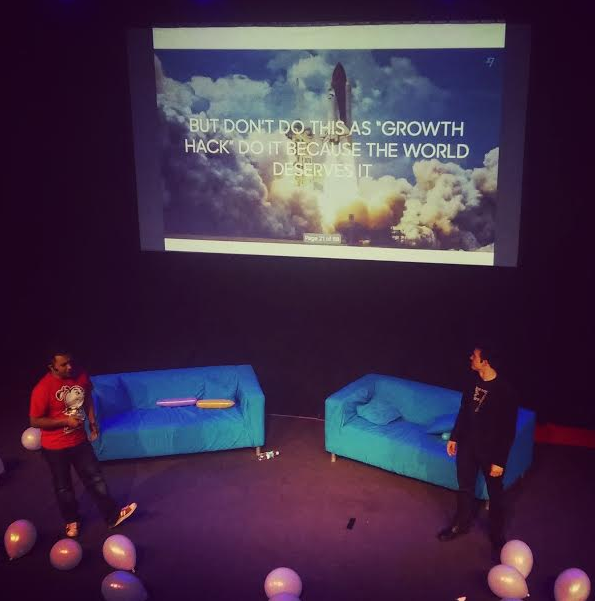 Ten takeaways from TechChill Baltics
February 18, 2016
Just before Valentine's Day – on the 11th of February – Latvian startup community hosted a friendly startup conference called TechChill Baltics. The event that celebrated its 5th birthday brought together founders, speakers, venture capitalists and journalists from several countries. TechChill's 5th birthday party was held in a rather dark club called Godvil but the ideas (and balloons that playfully wondered around the place!) were bright and positive.


Here's the list with some ideas that were featured on stage by practitioners, mentors, founders, evangelists and others.

Ross Kingsland from Virgin Startup reminded us that the basic idea should be based on psychology not technology but eventually everything is about marketing. Psychology and marketing require relationships and valuable relationships are based on a level of trust that does not happen overnight. Build your relationships and keep them strong!
Bart Lorang, co-founder and a CEO at FullContact said that we should embrace our emotions not hide them and say everything is always super great. Let's talk about real stuff instead of hiding it. If you feel anxious then ask yourself: What are you afraid of? What are you actually afraid of? Deal with your emotions and talk to people!
You have to bare in mind that a press release is actually a sales pitch and you can't pitch people with the same text all the time. Especially when it comes to journalists. Also, learn to accept a "NO." Do not ask 1000 times why TechCrunch is not talking about you! If your product is good, your time will come. Wise words from Michela Krause, Head of Germany at Ballau PR.
People in Estonia do cool stuff.
Juha Ruohonen, Calum Cameron, Monty Munford discussed about the startup community and startup ecosystem in Baltics and Nordics which led to a conclusion that community building is like building a startup only that in this case, the government does not like to admit that it's okay to fail and learn. Estonia was brought out as a good example of getting things rolling and that things change when you start building the startup scene consciously.
Step out of the comfort zone!
Did you know that there were 1500 startups launched in Israel in 2015? According to Tal Catran, people in the Baltics are too comfy and always planning instead of doing. Do, ask for feedback and make sure what works! It's about talking to people who don't know your business but know about business in general.
Choosing the people: The Founding DNA
Have you ever thought that the first people you hire are probably gonna be the bosses for those who you hire next? Choose wisely and think whether the skillset of people matches the problem they are trying to solve? This idea was brought out by Ben Smith, CTO at InReach Ventures.
Who want's to be bored for the rest of their lives?
Nobody. Aape Pohjavirta gave an inspiring speech about happiness and sadness, relationships and mobility, fear and excuses, Egg Cubers and nowness. Lesson learned? Do not make another Egg Cuber. There are more fun things in life when you stop finding excuses.
Get rid of cynical people.
Yup, just do it, because those are the people that will drag your company down. Workhack from Jonathan Howard, Director of Fun and Games at Saatchi & Saatchi.
Guys from Transferwise talked about Word of Mouth (WOM) Marketing and what to do in order to get 60% of marketing done by your own users as is the case at Transferwise. The list of lessons to learn would require a blog post on its own but one of the most universal thoughts was that at Transferwise everyone works on a product – to make WOM work, everybody needs to know how the product works. Extra tip: Hire no-bullshit-people from Baltics – they will tell you how it is and how it should be!
We learned that while hosting the event with 500+ participants, there has to be a system that does not require people to wait in the line for food for almost an hour. On the plus side, the food at the event was great!
TechChill is done for 2016 and hopefully it was filled with inspiring ideas, useful content and well built relationships. The next largest tech event in Baltics is Latitude59, which is to take place in Tallinn, Estonia on May 31 – June 1. See you all there!